Google AdExchange and AdSense are both advertising platforms of Google which provides over 70% of banner ads worldwide. So without using Google ad platforms it is impossible to reach the best RPM rate and maximise the revenue of your website in majority of cases. But which of them is the best Google AdX or Google AdSense? Are they available for every publisher? You are directly in the right place.
The complete guide you will find below. Be patient and read the whole article and it will pay-off.
The answer for the question
For those who are willing to get an answer immediately – I'll give it at once. But the explanation is not less interesting. So:
The best way to monetise the traffic of your website is to use simultaneously both platforms AdSense and AdExchange (AdX) getting advantages of both platforms at once.
For publishers who are not found of long experiments I have created the special offer due to assistance on how to get and how to setup these platforms on the web-site. Others who are willing to go deeper into the theory – should stay here and read the article to the very end.
Why it is a good idea to use AdSense and AdX simultaneously?
AdX provides mostly the CPM (cost per 1000 impressions) and AdSense works with CPC (Cost per click). On practice AdSense is a part of AdX. AdExchange is an ad exchange network, whereas AdSense is an ad network. For the fist view it seams that if you have AdX – you may not need AdSense. THIS STATEMENT IS WRONG. While making a decision on Google AdX or Google AdSense you should know next.
In real life Google AdSense and AdX behave quite differently on the pages of your website and bring different revenue at the same ad-places. It happens due to:
different bidding mechanisms;
differences in demand (advertisers);
differences in sizes of ad-units (especially flexible and fix-size);
Though Adsense can make bids through AdX, there is a set of places where AdSense itself performs much better than AdX.
What is the CTR Median?
Statistics is everything for programmatic ads revenue maximisation. You should always keep your finger on the pulse of your ad-units stats. And now we will consider the CTR. Both AdSense and AdExchange prices for ad-units depend on the CTR. But they depend in a different way. We will return to this question later. And now we will figure out what is a CTR Median:
CTR Median (from Latin mediāna "middle") or the middle value of a set of numbers – the number that is in the middle of this set, if sorted in ascending order, that is, such a number that half of the elements of the set is lower than it, and the other half is higher.
Example:
Lets imagine you have 5 ad-units on the page. (doesn't matter AdSense or AdX). You can easily get the historical data from your reports.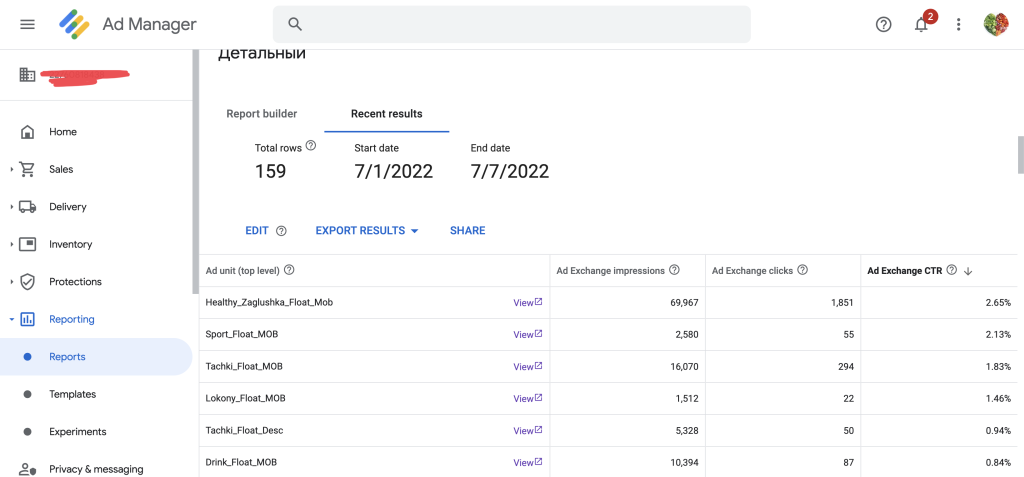 Lets imagine that the CTR of your Ad-Units are:
1st – 0,59%
2nd – 1,2%
3rd – 0,1%
4th – 0,23%
5th – 0,32%
In such a case the current CTR median for your web-site would be 0,32%. Though the average CTR in the report will be quite different. Average CTR takes in account the number of impressions of each block and is created for other purposes and Median CTR doesn't…
Now when you know how to get the CTR Median Parameter for your website we will learn how to use it to maximise AdSense and AdX revenue for your web-site.
What are the best places for AdSense ad-units?
So many different websites and so unique. So many experiments. But there is a clear dependency. CTR for AdSense is more important than for AdX. To get the maximal income out of AdSense you should put the AdSense ad-units into the ad-places with CTR higher than CTR median.
Why so? As I already mentioned AdSense mostly pays per click (CPC). The price for the click mostly depends on the visitor (country, gender, device, income, interests etc) so the best solution is put a CPC ad-unit to a places with the higher CTR.
Another important fact is that on average AdSense performs better in flexible full-width ad-places on mobile.
What are the best places for AdX ad-units?
Taking into account the previous paragraph – it becomes obvious that in all places where AdSense performs better we put AdSense ad-units and for the rest ad-places AdX will perform better. It is so because AdX is a CPM (cost per mile or per 1000 impressions) bidding platform and CTR there is little-bit less important than for AdSense.
Also keep in mind that AdX will be better for Fixed-Size ad places. Especially because you can effectively use a competition (Price Priority Campaigns) with 100% coverage Native Ads Network like MGID.
And the last but not the least – the perfect way to use AdX demand is to call for AdX ad-unit into the AdSense ad-place in case if AdSense doesn't cover this impression. In this case you get extra Clicks and Impressions as well as extra income without adding new places to your website.
How to get Google AdX or Google AdSense accounts?
There are several important things you should know about Google AdX or Google AdSense account registration.
For AdSense:
First of all you will need a website. Using a unique website you can register only one AdSense account.
The website should have at least 50 unique good articles to pass the moderation.
If you use paid traffic – most definitely you should cut it off before moderation, not to be banned.
Register AdSense account for the country of residence or the country where you have both – opportunity to receive physical letter and bank account.
For AdX:
You cant get your own managed AdManager with AdX demand without an AdSense account.
You can get AdX with Assistance if you have AdSense and at least 3000 unique visitors per day.
All the payments will go automatically and directly from Google through your AdSense account.
It is nor a nuclear physics to setup an AdExchange ad-unit through AdManager (like less than 5 minutes)
Conclusion on Google AdX or Google AdSense
It is simple. Both are good. You need both. You can get both. Do it by yourself of ask for help from the community or Get Consulting.
While others argue what is better an Apple of an Orange – you can try both and get the advantages of both platforms simultaneously. If you decided to go through this process without assistance – don't forget to register at native ads platform MGID. Its major benefit is the 100% coverage rate.
Q&A About Google AdX or Google AdSense
Is it legal to use both AdSense and AdX on the same page?
Yes, of course. There even is a setting in AdManager "Maximize revenue of unsold inventory with AdSense". So the AdManager itself can serve AdSense ads on the same page.
Can I get Google AdX if my site generates less than 500k page views per month?
Yes, it is possible through using a partner network.
Do I have to pay for access to AdX initially or monthly?
No payments at all. For community MH Members, there even is a free assistance on the process of connection.
How long will it take to start using AdX ad-units?
If the website is ok and you have AdSense account – in can take less than 24h before you see the AdX ad on your page. Sometimes few days.
How to get payment from AdX?
It will be payed together with AdSense payment on the same bank account on the same day by same transaction.
If you would have to pick one AdX or AdSense – what would you pick?
Though without AdX and just with AdSense I would loose approx 20% of income, Personally me – I would pick AdSense. Because vice-versa I would have lost 30%.